"Do you really think there's a God up there that needs us to all sit around and worship Him all the time – sit around telling Him how great He is instead of doing good things in the world?"
The question blind-sides me as I admit my own struggles with doubt to an unbelieving friend.
Do I? I stare silently, for a moment, and roll this thought through my mind, down into my heart as the words sting and I feel defensive on behalf of My Father, and guilty on behalf of my selfish heart.
"Well…," I begin. "No... and yes. And no."
This is difficult to answer.
"I think worship is vital to our relationship with God, but…" I continue, ever so slowly.
I want to get this right. I am talking to myself more than my friend, in this instant.
"I think it's more for us, than for Him."
She looks at me, wrinkled brow, skeptical. Where am I going with this?
"God doesn't need anything from us. I mean… He doesn't doubt His own greatness… but… I believe… He calls us to worship in order to stop, as often as possible, and ground ourselves. Remember ourselves in the scheme of things. Remember that this whole big deal isn't about us but about Him. Acknowledging His holiness is putting everything in its proper order, so that we can do good things in the world.
"When we're focused on ourselves, as we are, by nature, our desire is not to do good for others, but… that is His desire for us. And worship connects us to the heart of that. To look up, to go low, to get real. To realize our smallness, and His magnificence and to remember, often, that the closest we can get to being like Him is to be love in the flesh."
She nods. I see that this is the first time she's heard it this way. And I don't know where these words have come from, as I have never seen it this way before, but as I speak what flows through my mouth, without input from my (selfish) brain, it is all so clear. And I long, like never before, to worship, here and now, in this new understanding.
Worship is opening our hearts to our smallness and His greatness. Not because He needs it, but because we do. And we are free to be small, miniature even, inside of His Great Big Love. To be lost in it. To swim and dance and twirl in its open spaces. To love enormously and make ourselves smaller as He grows bigger within us. He loves us by making us smaller. We love Him by reflecting His big-ness, by showing Big Love to a hurt world.
And I am glad because this is new to me, this realization, this connection, but also painfully aware of just how big I have made myself in this little life of mine.
And it is there my heart whispers:
Lord… make me small
.
......................................................................................................................................................
Grateful,
with Ann
: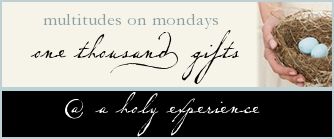 279. Compassion, where it is much needed.
280. Running water.
281. Peachy-orange roses, picked and shared by tiny hands.
282. Impromptu dinner parties.
283. Guests, full of grace for mess and imperfection.
284. Twenty-two full bellies and smiling faces around our dinner table, yesterday.
285. Enormous, extravagant love.
286. Warm blankets.
287. Bagels with cream cheese.
288. Newly planted bulbs, sprouting.
289. Anonymous notes of encouragement, given and received.
290.
Psalm 118:24
291. A stack of books, fresh for the reading.