I am now and always have been a bit of a word nerd, a girl made happy with book pages and fresh paper. For that and many reasons, Fall is my favorite time of year.
It always started in early August, though there would be a month still until the school year began. I began my plea early and often, pestering my mother to take me on the best shopping trip of the year.
For me, it was never about fashion. New school clothes were fine, but a girl like me really got jazzed about rows of unsharpened pencils, Pee-Chee folders, and piles of college-ruled notebook paper. Back-to-school was always an exciting adventure – the thrill of scaling the mountain ahead, fully equipped with all the right supplies for the journey.
Now, it's my kids' turn to oooh and aaah over fresh new school gear, blank pages, and the shavings of brand-new pencils. Our classroom is the dining table, but also the meadow, the zoo, the Internet, the beach, the factory, and the shade tree, and our education is ever-widening, often on display for the world to see. It is a little far-reaching, this thing we call school, in that we try and incorporate as much life into our education as we incorporate education into our life.
This year, we'll be rocking
DaySpring's new Back to School with a Purpose collection
, and showing those in and around our not-always-at-home-school that love and grace and faith and fun rolls right in there with the way we educate. It's true. I do know where love comes from, and I gotta smile when the joy of new school supplies helps us spread the word. After all, it's no secret.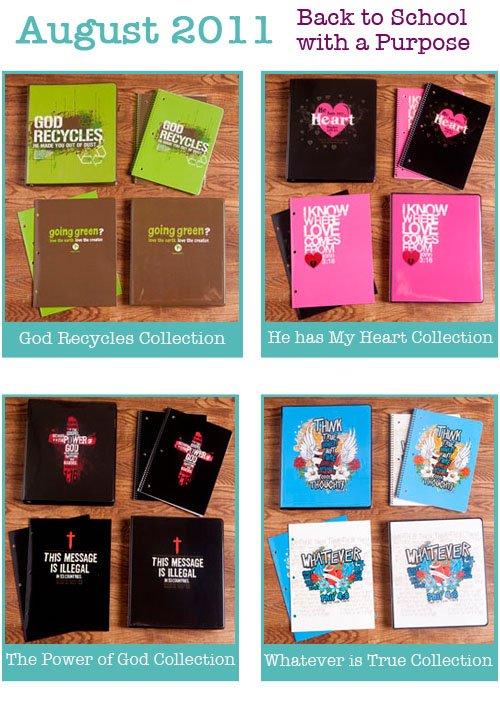 It's also no secret that I love my readers, and just for sticking through me here, I've got a little somethin' for one of you. Who wants $20 to spend in the DaySpring Online store? Ooooh, all those hands raised – now it's really looking like back-to-school time around here!
Entry is easy-peasy: Leave a comment with your favorite DaySpring product/product line, "like" WhimsySmitten on Facebook (link on sidebar), follow me on Twitter (link on sidebar), or become a new follower of this blog, and each one will get you one entry. For more than one entry, please leave a separate comment here on this post (one comment for each entry), and make sure your blog or profile gives an e-mail address where I can notify you. Comments/entries will be closed at 10 p.m. central time on Thursday, August 11th. Winner will be randomly chosen among entries on Friday, August 12.