Owwwww! I just stepped on a toothpick, ouch-side up, and it went more than halfway into my arch muscles in my foot, where it stuck. Youch. Husband had to yank on the thing about five times to get it out, and I'm not proud to say that I bawled like a baby. No fun!
The upside, though, is that it bought be some on-the-couch-with-my-laptop time, so I can post about the super-cute 'his' and 'hers' signs I whipped up today. Unfortunately, the technique is nothing unique, considering I got the idea after I made the 'nest' wall hangings I shared in my last post, but they were fun, quick, and cheap! This one, too, has a nice price tag...
Started out with twenty cent wood plank-things (yes, that's the technical name) that I found at the discount lumber store.
Then I coated them with ivory craft paint and painted a black border around the edge.
And just like I did with the 'nest' plaques, I used my trusty Cricut and Make the Cut software to cut out "his" and "hers" in vinyl, then transferred them onto the painted boards.
Cost
Wood boards: $0.40
Paint (approx): $0.25
Vinyl (approx): $0.80
Ribbon: $1.50
Grand Total:
A whopping $2.95 -- gotta love that! :)
Linking up this project to
Funky Junk Interiors' Saturday Nite Special.
Stop on by and check out some amazing inspiration.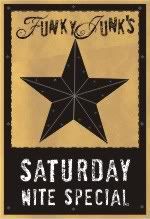 It's my first time linking up here, but I just can't resist mingling amongst all the creative lovelies on this site! Hoping to miraculously stumble upon an old gate between now and Sunday so I can participate in the themed link-up.
Also linking to Frugalicious Friday at Finding Fabulous, Saturday Soiree at A Little Lovely, and the always awesome CSI Project.






***



I also found another use for a changing table I picked up for $5 in the hope of repurposing it into something, without any real clue what I'd end up doing with it. Someday, this may have a more exciting life, but for now, it makes an excellent shipping station for getting online purchases out -- I've got my scale, envelopes, scissors, packing tape and stuff up top, then all the shipping boxes folded below. The picture is terrible, but you can get the idea. Yay for repurposing!



Okay, well that's all for now, folks. Hug those daddies in your life this weekend and celebrate them! <3>